Meet 2020 Hot Spouses:  The Women Behind Presidential Candidates 
Photo: Unknown
2020-11-05T20:52:48Z
This week, Uganda's electoral commission announced January 14th, 2021 as the polling date when the nation will decide who the next President of Uganda will be. The announcement came after a dramatic two day nomination exercise held on Monday & Tuesday. 11 candidates were confirmed to contest for the top most seat in the country. Whilst things like Bobi Wine's arrest, Patrick Amuriat's bare-foot show up and John Katumba's sprint to the nomination ground, one thing cannot be ignored—the public display of affection by some candidates.
A number of candidates showed up with their spouses by their side. From President Museveni, Kyagulanyi Robert (Bobi Wine), Mugisha Muntu to Joseph Kabuleta.
Here's a look at the marital running mates who could be the next First Lady after January elections.
•Julia Kakonge
She has been married to Mugisha Muntu for a longtime. She is rarely in the spotlight, but when she comes out of her shadow, she shines like a diamond. She is light-skinned and striking as she might have looked when she was 18. Her face could go on Vogue and battle the likes of Beyoncé and Rihanna.
If the beauty of the potential First Lady influences the electorate on who is voted, Muntu stands a big chance.
Julia and Muntu put up some public display of affection at the nomination exercise, eliciting admiration from many. Muntu held her hand. He helped her climb stairs. They gave the image of a perfect couple, perfect family suited for the big office. Even though they have been together for ages, their love for each other seems to be fresh.
Julia is also brainy and has worked in big offices such as the African Development Bank, among others. She is a masters degree holder in International Development from the Essex University in Canada.
She hails from a political family herself as her father was a strong pillar in the Uganda People's Congress.
Muntu and Julia are blessed with two children.
•Barbie Kyagulanyi
Barbie Itungo Kyagulanyi is always in our faces. She is young, fashion forward and maintains good looks. Her affection with Bobi Wine makes her even more beautiful.
During the nomination exercise, they walked hand in hand. They kept whispering into each other's ears and also took selfies. This show of affection endears them to many and could earn them a ticket to the big office, if PDA matters.
She would make a great First Lady by mere account of her looks. Cameras love her.
Beyond her looks, Barbie is a rock. She is that pillar onto which Bobi leans to do great. In one of his interviews recently, he credited her for being responsible for how he has turned out.
Barbie also has a caring heart. She is into philanthropy, specifically, women empowerment.
Barbie and Bobi have 5 children.
•Rebecca Kabuleta
A picture of Rebecca Kabuleta helping her hubby suit up has been circulating online. The picture is a glimpse into what she is even when the cameras are not flashing—a supportive wife.
She escorted her husband to the nomination ground. Her looks got people talking on social media with many saying they'd vote for Kabuleta on account of his wife's stunning looks.
Besides being a wife to Kabuleta, she is known in born-again circles as a gospel musician. Ask her to sing, and her voice will win your heart. One wonders why she hasn't yet released a campaign song for her husband.
Kabuleta and Rebecca tied the knot in 2017.
•Janet Museveni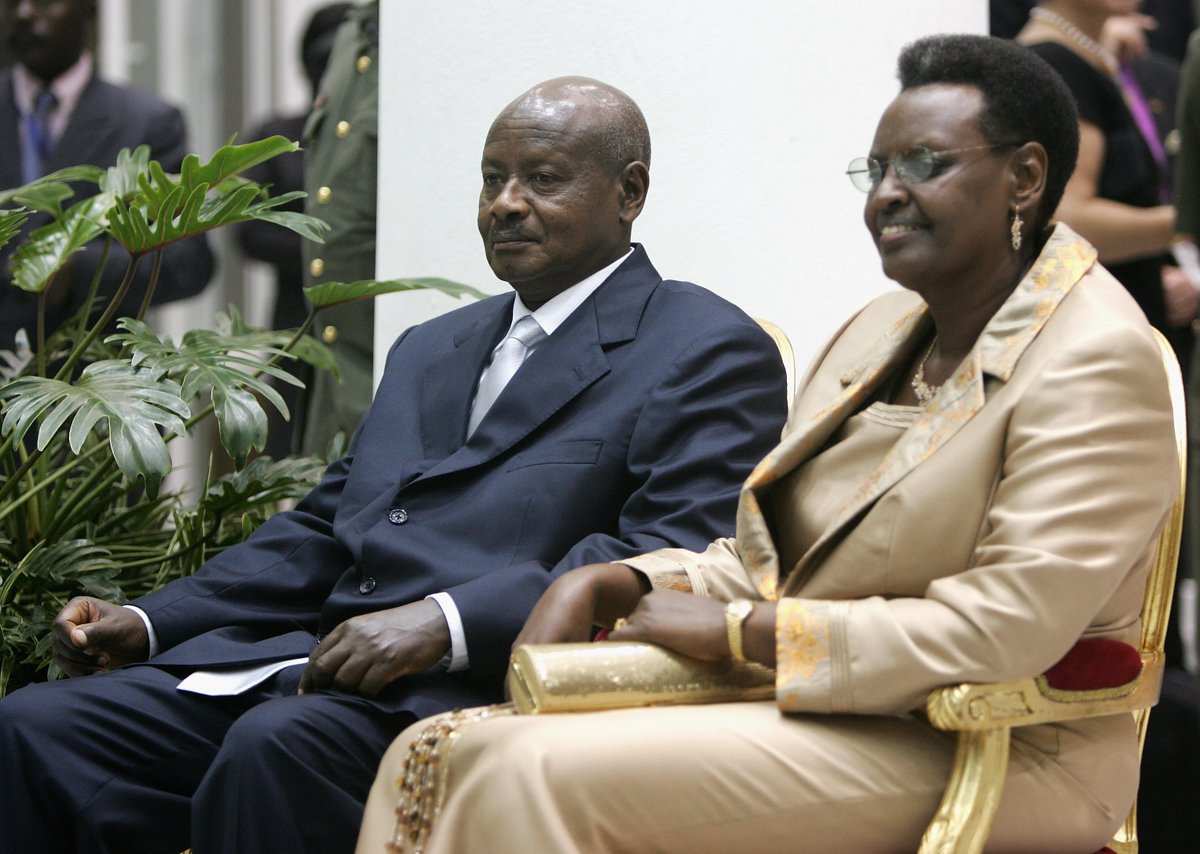 Mama Janet Museveni turned up at the nomination ground alongside her husband Tibuhaburwa.
Janet has been First Lady for as long as Museveni has been President. She knows how best to be First Lady, she can write a best seller out of her experience.
She is beautiful inside out. Many in this nation call her mama because of her character as a mother figure to this nation.
She is the Minister of Education and former MP. You cannot doubt her mental strength. The President obviously leans on her for guidance on how to run this nation. Together they have managed this country for 30+ years.
•Stella Tumukunde
Stella Tumukunde, a cousin to Janet Museveni. Rarely do you see her in the limelight.
Many saw her for the first time at Tumukunde's nomination. She didn't hold hands with the General and neither did they walk side by side. That doesn't mean her presence wasn't felt.
She is the wife of the General. And she looked every inch fitting. She is graceful and composed.
Other Candidates
•Norbert Mao—Divorced
Democratic Party flag bearer for the Presidency showed up with Beatrice Kayanja by her side. Kayanja is, however, not Mao's spouse if you thought so.
Mao broke up with his wife Naomi years ago after being married for 16 years.
•John Katumba
John Katumba showed up with a group of his 'boys'. At 24, he has not found a wife yet. He, however, promised to unveil the woman who will be his First Lady soon.